I jumped at the chance to review a copy of this new DVD from Athena – you know the company that makes all of the really high-quality DVD's? (Think Bill Moyers.) I pictured my family sitting around watching this, pausing it at certain moments to answer questions from the kids…
Fen grew bored quickly, though. For as amazing as these DVD's are, I think they're probably not going to make the cut for anyone below high school age. But you art-interested adults out there will find them fascinating and very watchable. Picture having your favorite giant art coffee table book come to life on your tv.
This one takes place over the course of 2 days in The Louvre. Art specialists from all over the world were invited to come view and discuss masterpieces by: Raphael, Rembrant, Poussin, Watteau, and Leonardo Da Vinci.But get this. The paintings were taken out from behind the glass, out of their frames, and placed at eye level on easels. These people could have licked a Rembrant if they had chosen.
The lighting in the film is gorgeous, and it feels like we're eavesdropping on the specialists as they try to unravel some mysteries about the paintings. (This inherently makes you listen and pay attention.) They discuss, ask questions, agree, disagree, interpret- we get caught up in their fascination and passion for the subject matter.
Watch this clip:
Dotted throughout are animated shorts that explain art concepts in more detail, and they're wonderful! Quick enough to hold our diminishing attention spans, and effective, I suppose since they were graphically simple and
visual.
For instance, I didn't realize how many of these paintings had been stretched, cut, added to, etc. over the centuries. And how the way subjects were facing, what they wore, how the direction of their gazes- meant- it's all significant in Renaissance painting.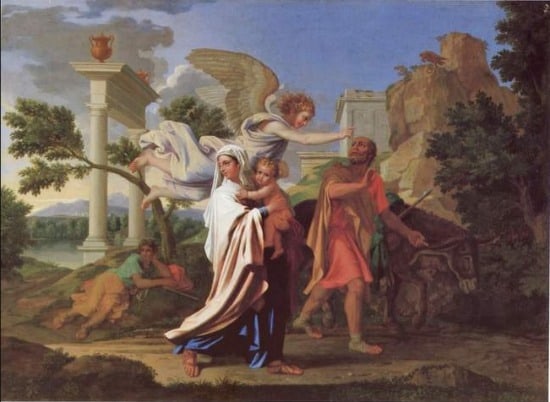 image courtesy of Wikipaintings
I was particularly interested in seeing how the pros reacted to being with the Mona Lisa- the mood shifted and they all quieted in reverence. One man remarked, "It's very human. And so we take great pleasure in just being with her in silence."
image courtesy of Wikipaintings
You can buy your own copy of Understanding Art: Hidden Lives of Masterpieces at Amazon or directly at Acorn Online.