We have had the book Kid Made Modern for a year or so and it's one of those books that comes along that changes everything. Not just a craft book, not just an art book, this thing revolutionized the way kid creating shall be perceived forevermore.
Maybe that's not entirely true, but it's a great resource and place for inspiration and a cool, child-friendly guide to hands-on learning about modern design, by Todd Oldham.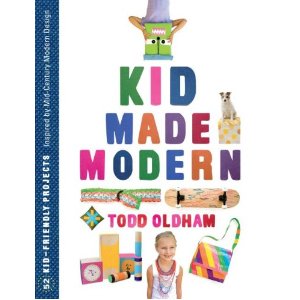 I can't believe it has only 6 customer reviews on Amazon. We've been inspired by this book to make duck tape bags, aluminum foil bracelets, paint-stamped t shirts, and we're going to use the Kool-Aid hair streaking method this summer. (By 'we' I don't mean 'me'.)
So I was pretty excited to see that Target just came out with a line of arts and crafts items based on this book.
We haven't tried any of this stuff yet, but I have my eye on the comic book kits (awesome!) and the solid tape set. We're all about tapes in this house- everywhere you look there is tape covering some surface.
While these items are pretty cool, I would definitely recommend picking up the book. You get more open-ended inspiration so if your kids don't like one aspect of a project you can easily tweak materials, colors, etc. Plus you get lots of tips in the book, a mini intro to Creative Arts, and short bios on the designers that inspired each project.
P.S. You may notice me COMPLETELY changing my header over the next few days. I'm on a roll. I'm so not a graphic designer, so designing headers is a bit of a process for me. It's slightly different from my first header, no?